G.L.O.W. – Grow & Learn On Weekdays
is an educational social homeschool group in the Charleston South Carolina area.
We are a community homeschool group that loves learning and we want to pass that love to our children. The target age range for this group is K-8th grade and up through teens. We welcome siblings of all ages as well as those who are homeschooling preschoolers.
We focus on field trips and events with social activities and classes offered throughout the school year. We are run by leaders who volunteer their time and want to provide opportunities for the homeschool community. Anyone member of GLOW can schedule an event. We have a few different divisions of GLOW which will be marked on the color of each event when posted.
For a preview of planned events, check out our Upcoming Events Newsletters.
We are also have a South Carolina Option 3 Accountability Group starting in the 2019-2020 school year. Click here for more info on the GLOW Accountability Association.
Contact Us
Email:  Glowchs@gmail.com
Glow Homeschoolers Facebook Group 
G.L.O.W. Categories
Age categories can be identified on the calendar by color:
Diodes: Preschoolers through Kindergarten, ages 3-6.
L.E.D.: Lower Elementary aged students, primarily for 1st through 4th grade, ages 6 and up.
Ignite: Middle school, 5th through 8th grade.
Teen: Ages 12 and up.
All Ages: Everyone in GLOW.
Interest categories:
Reflect

:
Art for all ages.
Shine: Opportunities for service projects around the Charleston area.
SC History: South Carolina history & social studies for various age groups.
Field Trips, Events, Socials!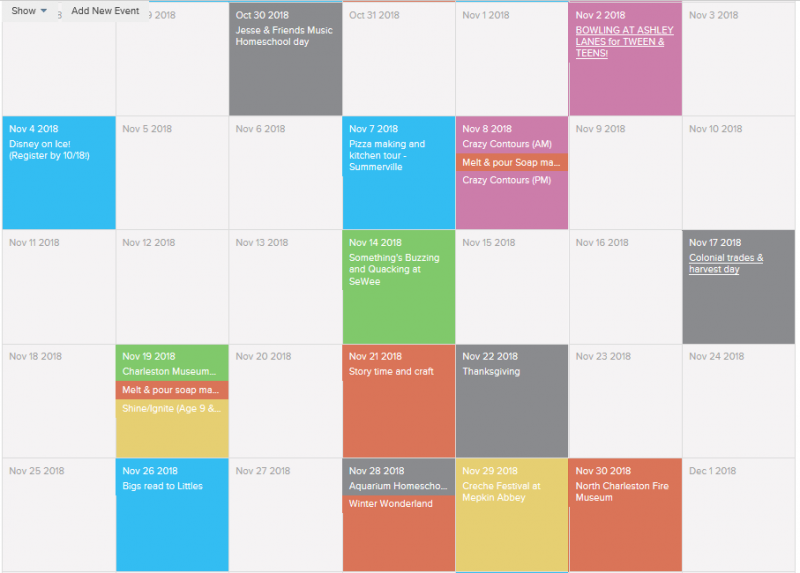 ---
Want to start a GLOW chapter in your area?
We have created something special here and would like to share with other communities. We have the knowledge, experience, guidelines, and website for you to start a chapter of GLOW in your area. We are growing every year and have maintained a drama-free group run by a volunteer board. Members can come to as many events as they want. Any member can also create events and add them to our schedule.
Contact us at Glowchs@gmail.com if you would like to learn more about what it takes to start a GLOW chapter in your area.