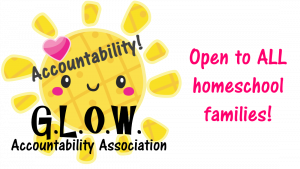 GLOW Accountability Association is a South Carolina Option 3 homeschool association. Our purpose is to provide support and accountability as required by SC Code of Law Section 59-65-47 with minimum restrictions and requirements placed on your family.

GLOW Accountability Benefits & Services

Accountability for Option 3 homeschooling as required by South Carolina state law.

Accountability with people in your homeschool community! See who is in your accountability group in the membership directory. Meet other members at informational and social meet-ups.

Minimally invasive accountability with minimum restrictions.

Membership confirmation letters and ID cards.

Online forms for fast processing.

Free member-only DIY forms.

Newsletter and reminders via email.

Consult with experienced members online, by phone, or in person.

Free informational meet ups.

Accountability membership starts July 1st. Have questions about a gap between years? See our Q&A here.